Authentic Italian Quality
Azimut's new design is special because of the quality of production in every detail imaginable of their ships, with technology that offers the best nautical experience and a high level of comfort. Their ships can be described as oases in the middle of the open sea; the collection offers the largest variety of ships in the world and their models range from 42 to 88 ft vessels ready to live in a world of adventure, limitless freedom in the ocean, and wellbeing.
The Azimut 72 is seductive—full of history, exquisite style, and on top of everything, the innovation in the use of carbon fiber to achieve absolute comfort. The vast windows, low-profile gunwales and the large 40 m2 flybridge allow you a 360-degree experience of the immensity of the sea and the sky. The luxury Azimut 72 makes your dreams come true. The cockpit is idyllic for moments of relaxation between meals, waiting for the sunset or the sunrise, and while navigating at the helm, you can be in full control of the vessel while staying cozy. It features two sporty helm seats and a forward-facing bench next to the helm station to enjoy conversations and have a toast to life.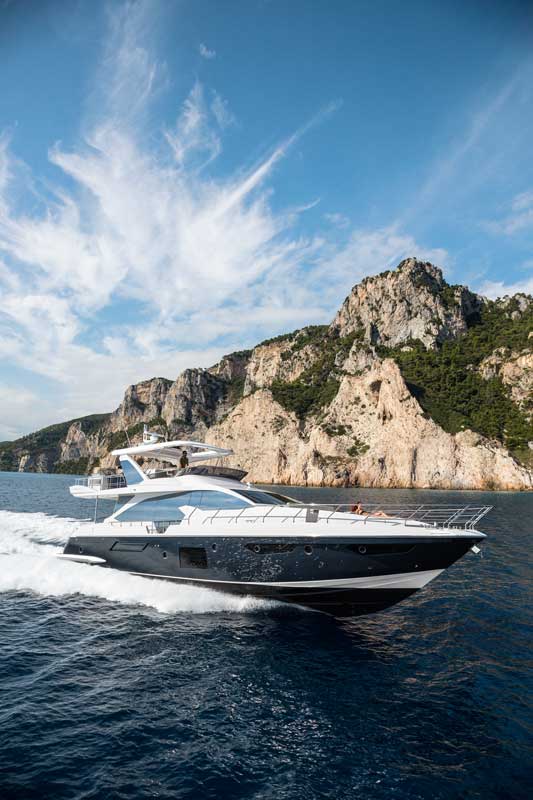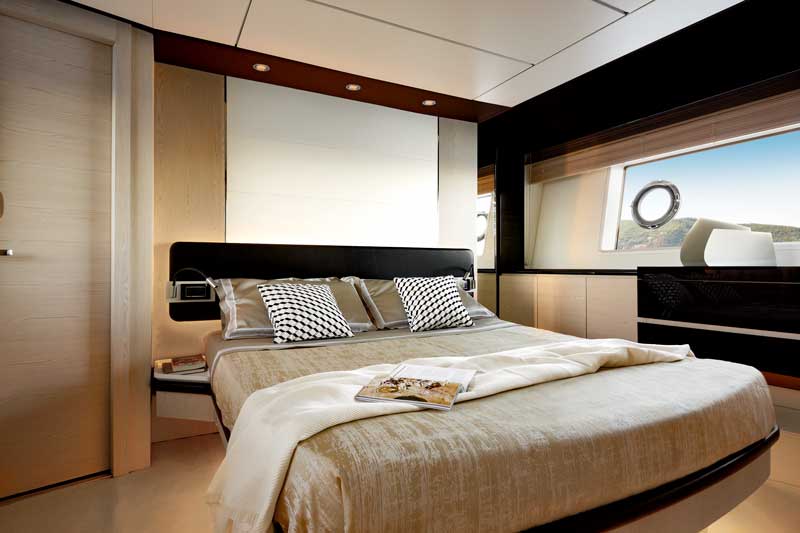 The sun-pad area in the bow invites you to rest and dry up after swimming in the sea, or enjoy the breeze with family or friends. When you are in the cockpit sailing in deep ocean, or at the main deck with its wood finishes in oak, sycamore or ebony and the superstructure of carbon fiber and fiberglass surfaces that merge with the colors of nature, you feel like you belong in the infinite blue that becomes one with the far horizon. Carlo Galeazzi was the one in charge of the interior design. He used noble and precious properties, fabrics and refined finishes; every detail reveals the dedication Azimut Yachts invests in selecting each element. The ample space in the cockpit includes a small dining area, closets, and more to turn this space into your private suite.
The Yacht comes with three cabins, two with double beds and one with twin singles, designed for comfort and luxury; each cabin has its own bathroom that stimulates the wellbeing of the senses and relaxation.
The exterior was designed by Stefano Righini. The use of carbon results in more space and more stability. The fiberglass hull, deck and flybridge, laminated in pure carbon fiber reduce the weight of the superstructures by about 30%.
Shipbuilder Azimut is completely dedicated to find innovating solutions that make navigation easier, more comfortable and safer with functions like Easy handling (the patented assisted steering system) and Easy Cruising (overview and organization of all the controls in a single touch-screen display), and Easy Docking (assisted docking system), all exclusive and unique.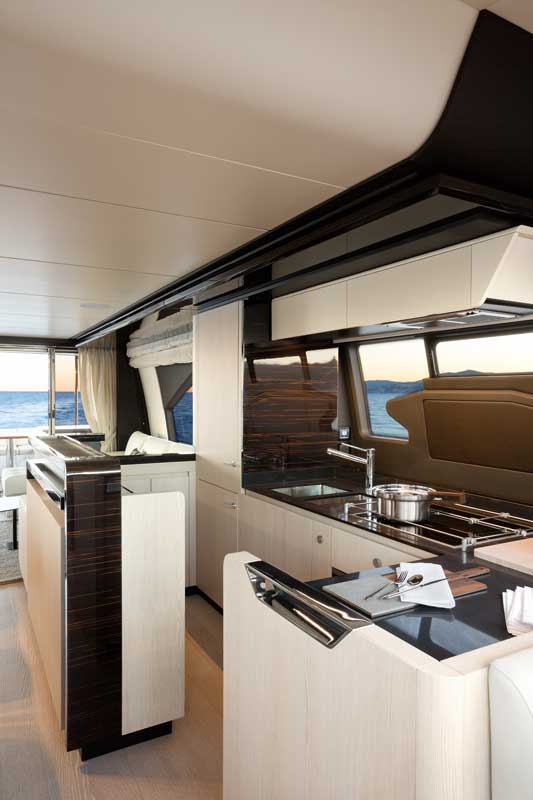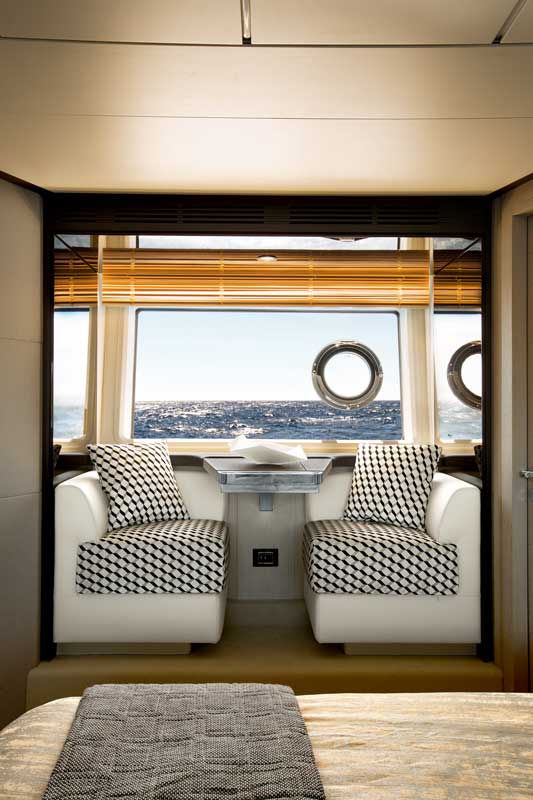 Specifications:
Max Length
22,64 m (74 '3 ")
Hull length (incl. platform)
22,07 m (72 '5' ')
Displacement (at full load)
53 t
Engines
2 x 1400 MHP (1.029 kW) / HOMBRE CR V12 / 2 x 1400 mHP (1029 kW) MAN CR V12
Maximum speed
31 knots
Cruising speed
26 knots
Fuel capacity
5,200 lt (1.373 US gls)
Water capacity
1,100 lt (290 US gls)
Text: Azimut ± Photo: Azimut