This Year ´s Super Yacht
Frans Heesen founded his shipping company in Holland in 1978, with a mission to build exceptional yachts. After 30 successful years, the dream lives on with their most recent launch that was christened by its owners as Galactica Super Nova, a 229.66-footer—the largest of the Dutch shipyard. Their most recent creation won the Best Exterior Design award and the 2016 MYS Finest New Superyacht prize, both at the Monaco Yacht Show: only the most prestigious yacht event in the world. It was also a finalist in the categories of Best Interior Design, Best Naval Architecture, Most Innovative Motor Yacht and Best Lighting Design.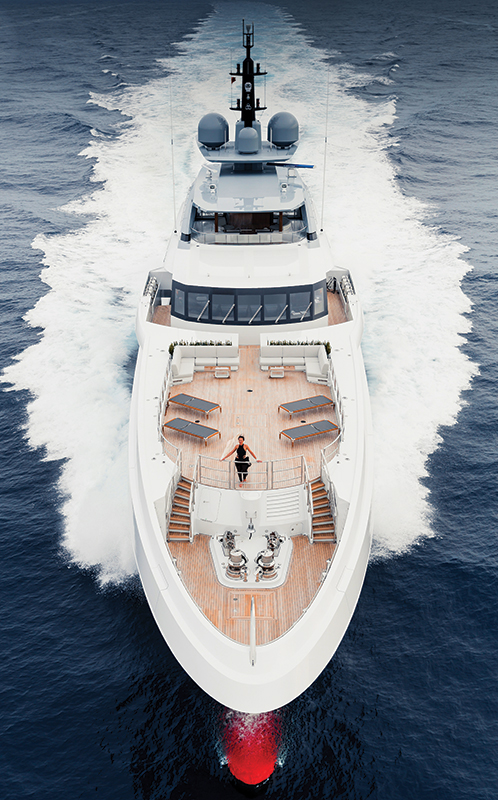 Galactica Super Nova uses the revolutionary Fast Displacement Hull Form (FDHF) technology, designed by Van Oossanen Naval Architects. It was first applied by Heesen Yachts, and the addition of a third engine allows an unusual speed for its size, since it reaches up to 30 knots. The project was developed by the naval architect and engineering yacht design specialist Espen Øino—with 20 years of experience, during which he has created close to 50 luxury yachts around the world—who worked with innovative designs on a pre-established technical platform provided by Heesen experts.
Besides its efficiency and high velocity, it has been fitted with 'zero speed stabilizers' to guarantee comfort when anchored, even in turbulent waters. Its fuel capacity grants the yacht an operating range of 4000 nautical miles, cruising at 12 knots.
For the interiors, the owners chose Sinot Exclusive Yacht Design (SYED), led by designer Sander Sinot, who captured a balance between functionality, beauty, engineering and luxury. He used a wide range of leathers—from the exotic and resistant galuchat to soft calfskin—as a basis for the design, which includes a variety of rocks like calacatta luccicoso marble and different types of onyx. The central stairway and the crystal elevator are stand-out features. Acclaimed designer Sabrina Monteleone, founder of Sabrina Monte-Carlo, shows her creative spirit in the decoration with art pieces, tableware, interior and exterior furniture, sheets, bedding, and lighting. All these elements combine harmoniously to build this magnificent project.
To Live at Sea
Heesen's Galactica Super Nova was conceived and built as a smart residence; the yacht provides luxury accommodation for 12 guests in a full-beam master suite, one VIP cabin and four double cabins. There are also eight cabins for 16 crew members to provide hospitality fit for kings.
The displacement yacht features a helipad that allows more efficiency when traveling to land, or inviting guests onboard. Its beautiful pool at the main deck, with a 13,500 liter capacity, has hydro-massage spa jets, a waterfall, Jacuzzi, and glass panels at the bottom to filtrate natural light into the lower deck where you can find the beach club; some of these areas have their own bar, sound system and lighting.
There are many platforms to enjoy swimming in the sea, and at the front deck there is enough space for parties, concerts and an outdoor cinema. The sundeck is protected against the wind, partially concealed from the sun and includes a barbecue, dining area and lounge. The retractable walls in some areas of the ship offer views to the sea. But that's not all, in the garage at the front of the hull, it is possible to store recreational vehicles for sea or land.
Text: Heesen Yachts ± Photo: HEESEN YACHTS / GUILLAUME PLISSON / DAVID CHURCHILL