Rethinking Dimension
Catamarans are evolving into higher levels of luxury and comfort that compete with the most coveted superyachts in the world. Lagoon, founded in 1984, wanted to create a flagship that exceeded expectations and that took sailing to higher dimensions. To accomplish that, the shipyard recruited a team of experts and renowned designers from around the world; Patrick le Quément (exterior design), French naval architects Marc Van Peteghem and Vincent Lauriot-Prévost from VPLP, and Massimo Gino of Nauta Design collaborated to create a vessel that would fulfill Lagoon's vision of a new era of multihulls, perfect to accommodate owners, guests and crew with luxury and refinement. The designers were able to innovate while retaining the generosity and friendliness that are characteristic of Lagoon.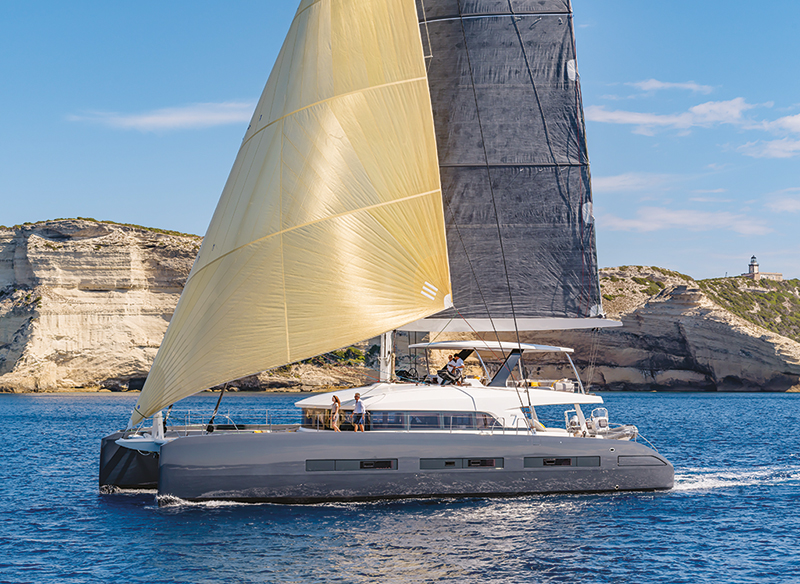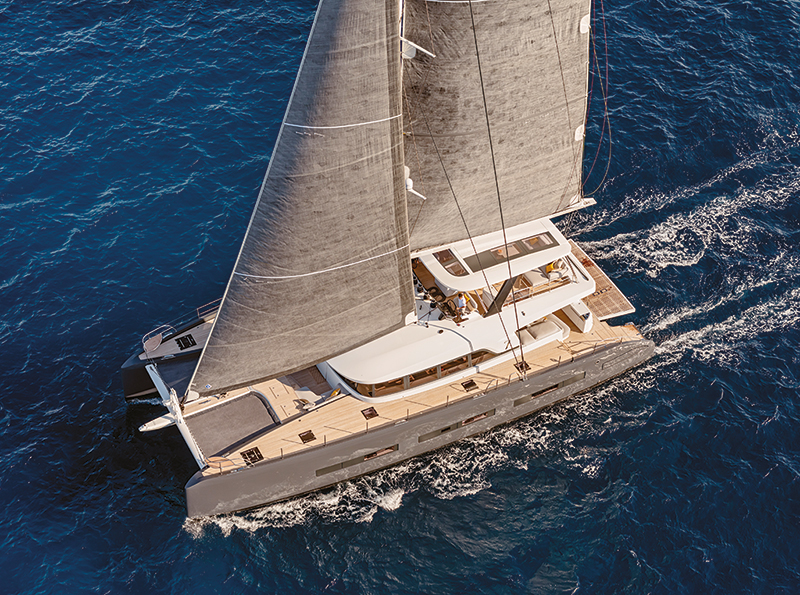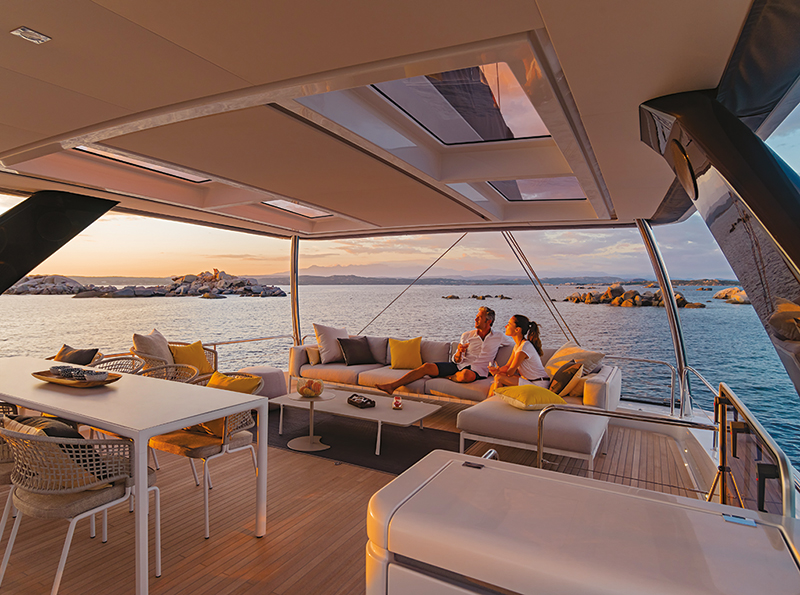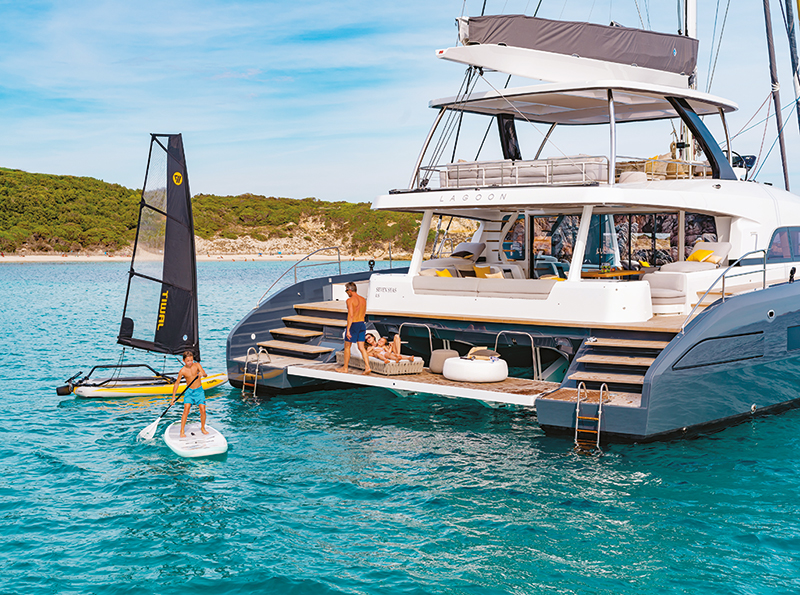 Spaces are distributed in such manner that they are enjoyable for family time, or sharing an evening with friends, making the experience of living onboard unparalleled—synonymous of excellence. The vessel boasts gentle and precise lines that give it a unique and refined personality, while the hull and superstructure unify harmoniously. The saloon at the main deck, accommodating up to twenty people, is the epitome of comfort and usually the most popular area in the catamaran, with direct access to the forward cockpit. The aft platform connects the two transom skirts to form a single sea-oriented space for relaxation and recreation, and serves as an outdoor living space that awards a sense of freedom. The flybridge, protected by a fiberglass hardtop, provides additional space for an open lounge and a panoramic view of the sea—owners can customize this section with a Jacuzzi tub, a sundeck and more. Space arrangement also allows working areas to be separate from the rest for better functionality.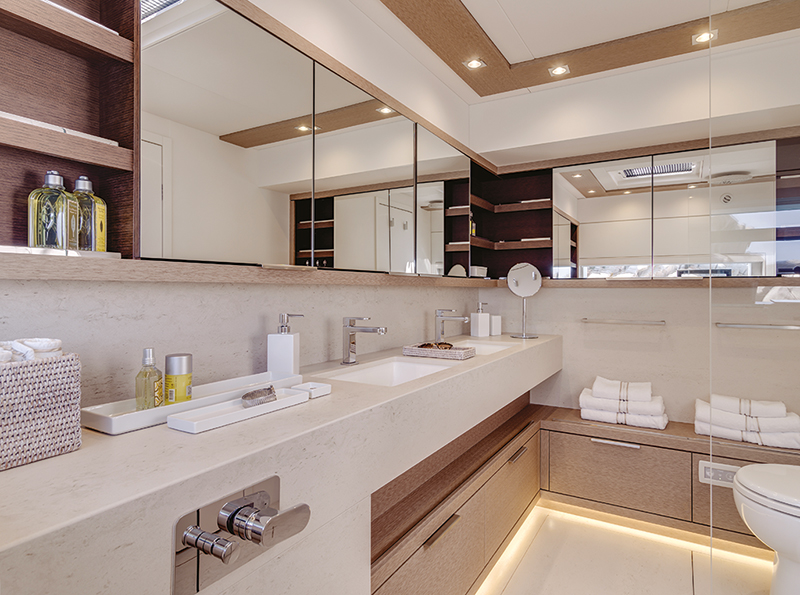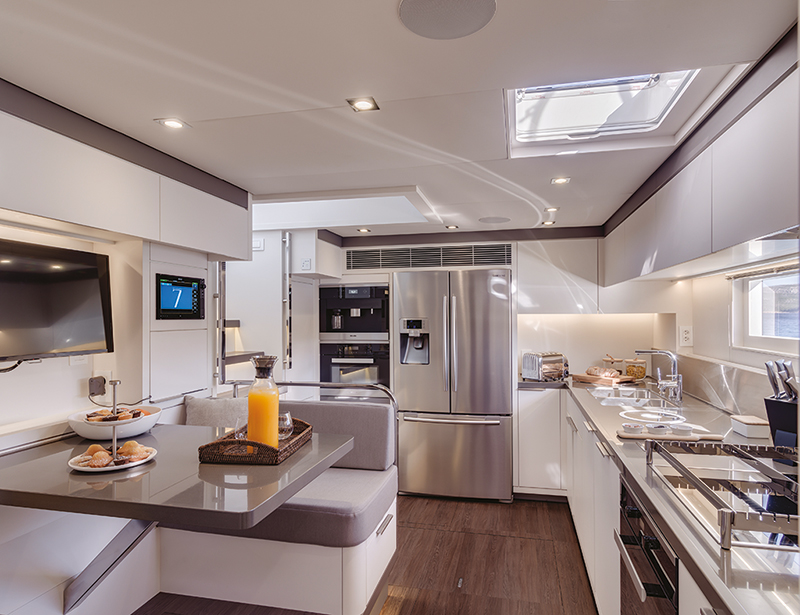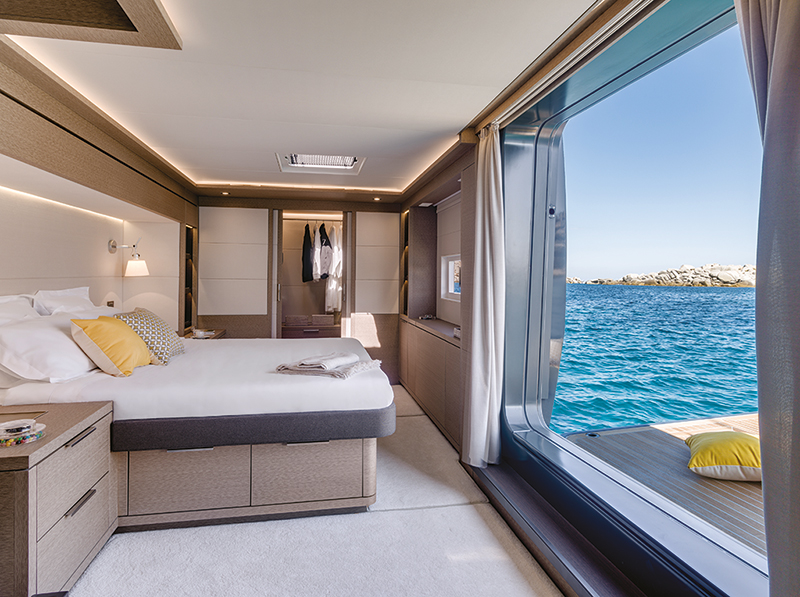 According to Massimo Gino's philosophy, the interiors and exteriors merge in both style and volume, making no compromise, ready to be experienced according to the customer's requirements. The interiors are separate, with a function of their own—saloon, dining area, bar, navigation, etc.—and yet are also combined, creating a single environment, a feat that makes the Seventy 7 unique. The 35m2 Owner's cabin has a king-size bed, a beautifully lit en-suite bathroom and a comfortable dressing room; customers can choose a layout that includes a private beach club with breathtaking proximity to the ocean. The VIP cabins feature lovely views, queen-size bed, desk, and storage areas. The 20m2 area dedicated to the crew encompasses mess, galley and a number of cabins depending on the chosen layout.
The Lagoon Seventy 7 is the perfect combination of performance and comfort, sailing ship, catamaran and super yacht, and a flawless blend of exteriors and interiors. The vessel is powered by either Volvo D4-180hp or John Deere N5-230 hp engines and comes with hydraulic transmission.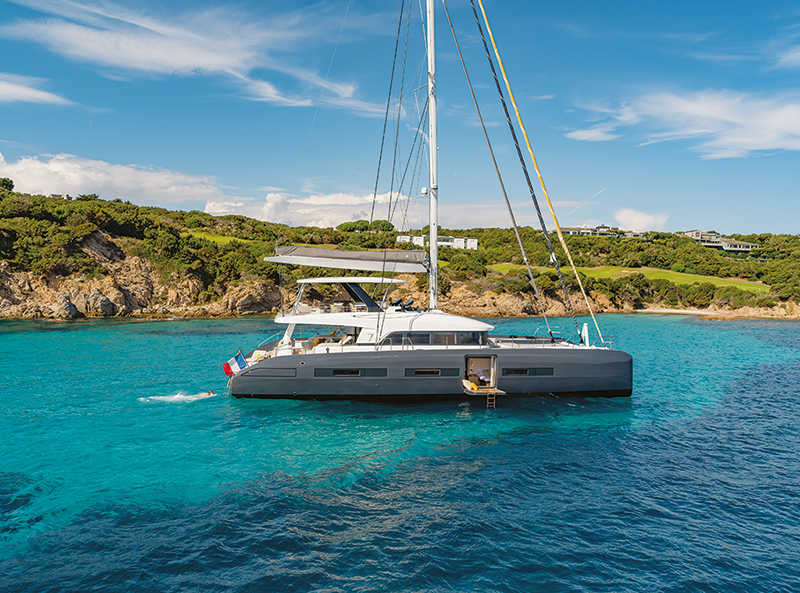 "A beautiful boat is a boat that has elegant proportions"
Patrick le Quément
Specifications:
Length Overall
23.77 m
Draft
1.90 m
Engines
Volvo D4-180hp / John Deere N5-230 hp
Maximum Speed
12 knots
Cruise Speed
9.2 knots
Text: Lagoon ± Photo: SEVENTY 7