JR and Loren Ridinger, entrepreneurs and owners of the new Rossinavi Utopia IV, envisioned a yacht in which they could spend time with their family. For an experienced yacht owner, the idea of commissioning a yacht from scratch can be daunting—to take that step, a shipyard must share their values and philosophies, and so, after careful evaluation, signing a contract with the Italian shipyard Rossinavi was an easy choice. With shared family values, they embarked together to-ward the creation of this exceptional vessel.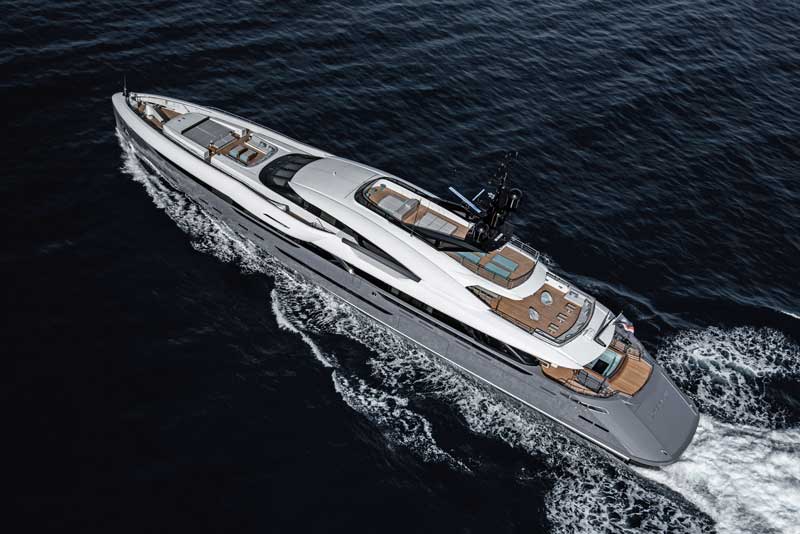 It was really about creating a warm environment to enjoy with our children and grandchildren, but also an amazing place where we could entertain and do business
-Loren Ridinger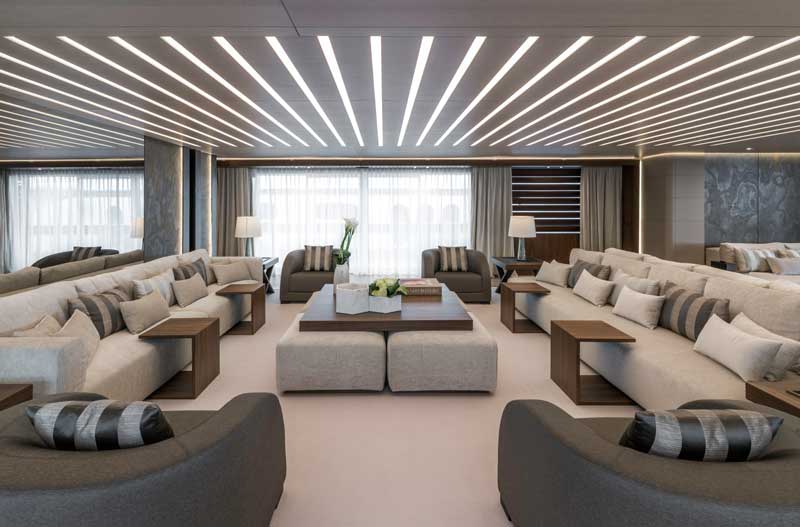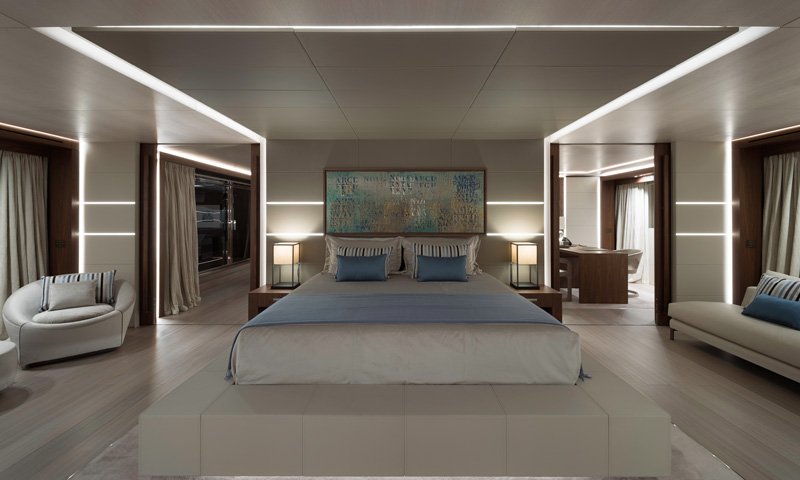 Utopia IV was built in aluminum with a fast displacement hull, which engineering was designed by Arrabito Naval Architects, while Team for Design was in charge of both exteriors and interiors, working in close collaboration with the owners. With light oak and leather finishes, combined with warm monochromatic hues, the yacht is modern and stylish. The main lounge offers ample spaces for relaxation and comfortable livability with panoramic windows, all of this enhanced by the LED strip lighting along the ceilings, walls and floors. Along the interiors you will find scattered bespoke pieces of art that will compliment the grandeur of the main staircase.
As a family-oriented yacht, there are areas specifically designed for children that includes a playroom full of toys and three child-friendly pools. The 70 sqm beach club opens at sea level, adding to the versatility of the yacht; other recreation areas include the bar and swimming pool on the main deck plus the outdoor lounge along with the dining area, and a sunbathing area in the sun deck. The vessel can accommodate 12 guests in six cabins and the owner's suite features a balcony with panoramic views, an office area and a grand bathroom with double-shower and jacuzzi bath. The sky lounge is the perfect space for spending time with friends and family; it features a retractable screen that can turn the lounge into a cinema. 
With state-of-the-art technology, the Utopia IV is not only sleek aggressive exteriors, cozy interiors and overall aesthetic sophistication—the yacht also excels in performance. With four MTU 16V 2000 M96L 1939 kW engines, the Utopia IV reaches an impressive maximum speed of 33 knots and a cruising speed of 26 knots with a range of 3300 nm at 12 knots. More than unparalled speed, supreme style and stunning beauty, the Utopia IV was about making her owner's dreams a reality.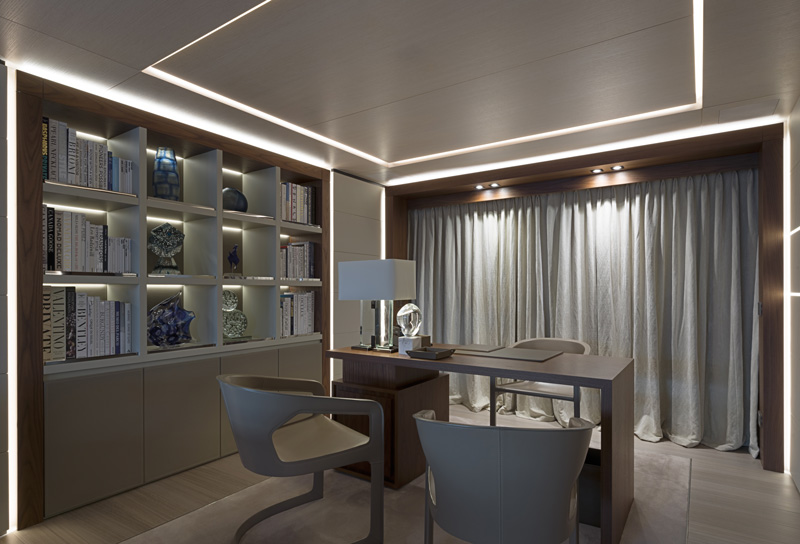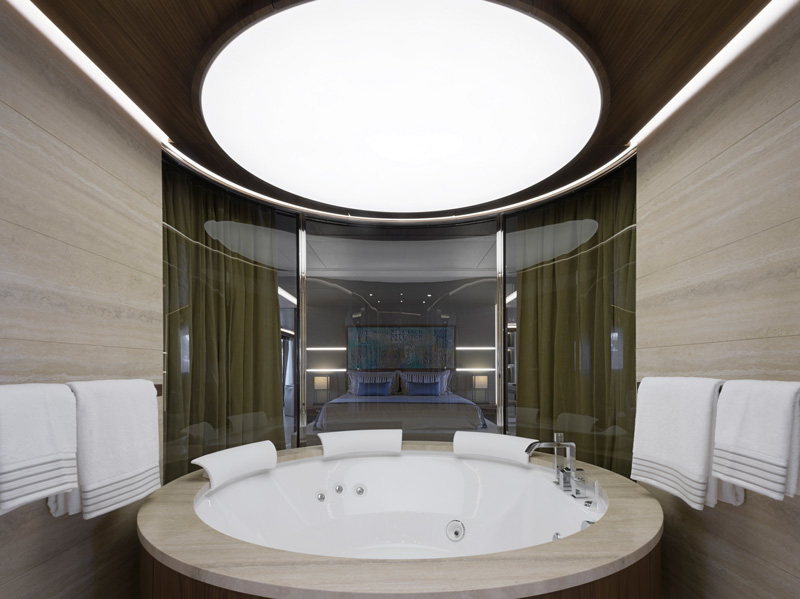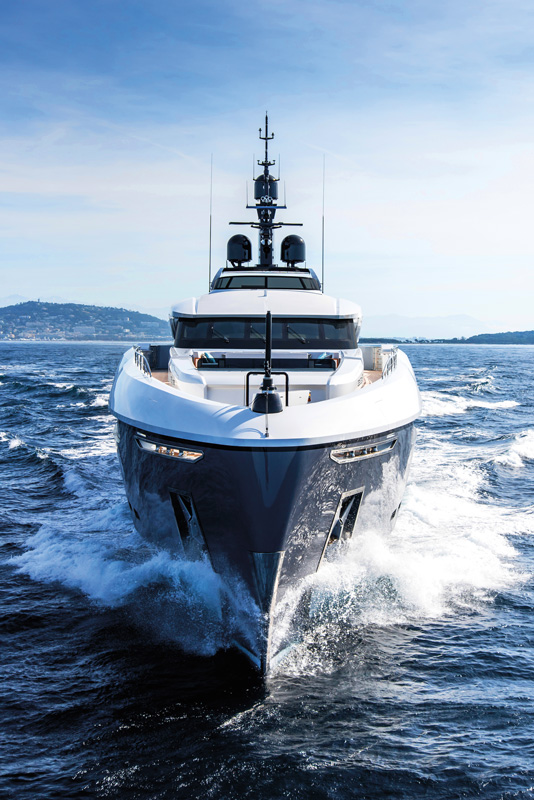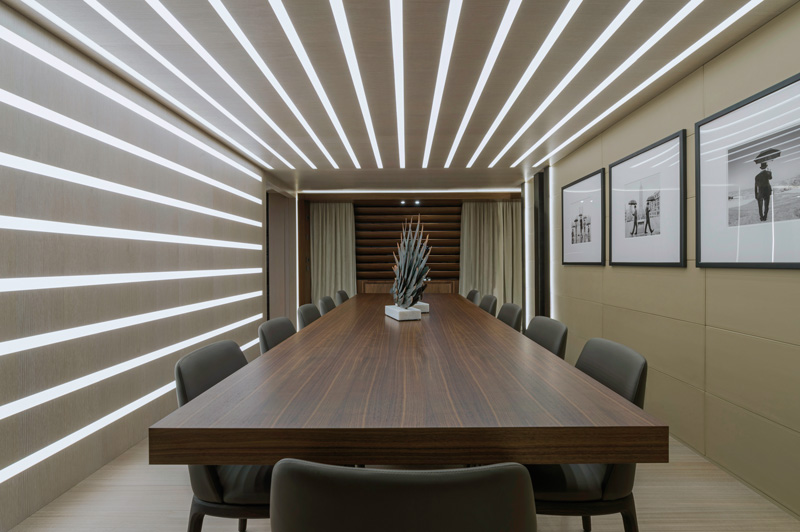 "We wanted her to feel like a speedboat, but had to balance the horsepower required to achieve the top speed with low-speed effi-ciency and long range.
-Federico Rossi, COO of Rossinavi
SPECIFICACIONS
LENGTH OVERALL
63 m 
BEAM
11 m
Crew
13
Engines
4 x MTU 16V 2000 M96L 1939 kW
Range
3300 nm @ 12 kts
Cruising Speed 
17.5 knots
Max Speed 
12.5 knots
Texto: ± Foto: Rossinavi