During Milan Design Week, Rossinavi will unveil the yacht it describes as "a flagship of green technology."
British studio Zaha Hadid Architects (ZHA) unveiled the design of a yacht covered in solar panels on three levels that fully power it on day trips.
Designed and developed for Italian shipyard Rossinavi, the Oneiric yacht is capable of sailing 100% of the time in all-electric mode with zero emissions, on a voyage of up to 24 hours.
ZHA explained, "On transatlantic crossings, the yacht can sail in all-electric mode up to 70% of the time, saving approximately 40 tons of CO2 compared to a conventional ship."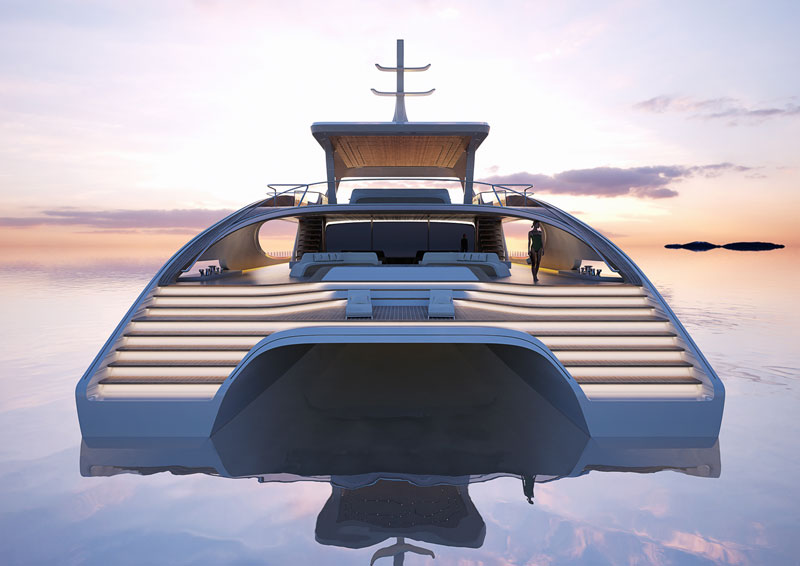 The design of the office is a 42 m twin-hulled yacht with a sinuous shape always associated with the studio. The main deck houses a bar and sofas that lead to a second deck with a whirlpool tub. The owner's suite is located adjacent to the main salon and features a curved window providing panoramic views of the sea.
ZHA designed both the exterior and interior spaces. They said, "Both are based on the fluidity of ocean waves. The sinuous lines and surfaces of the exterior continue throughout the interior, blurring the boundaries between the vessel and the sea."
He also highlighted the fact that Oneiric, being completely solar-powered, is extremely quiet when sailing. It also features the effects of Rossinavi's Zero Noise technology.