A solid and secure lodge at the top of the world
Which is the world's most northerly hotel, you ask? The answer to that question, of course, would be Hotel Arctic. Sitting right on the edge of the Ilulissat Ice Fjord, a natural wonder that is prominently featured on the UNESCO World Heritage List, Hotel Arctic offers guests the opportunity to explore a world beyond imagination.
The hotel is home to seven different types of rooms and suites. However, unlike numerous other luxury hotels, Arctic also offers two unique options: an Outdoor Room and an Igloo. Arctic's five Outdoor Rooms each have a private terrace and direct access to the fells outside. The two sides of the adjustable bed can be regulated individually, making it possible to have a view of the fells, the ocean, and the icebergs from there. They are decorated with the Greenlandic guillemot as the theme. Igloo's, for their part, sit at the very edge of the Ice Fjord, right in the front row overlooking almost indescribable polar nature. These two-person cabins are only a short walk from the hotel, and are inspired by the classic Eskimo dwellings in shape and design. A sturdy aluminum frame houses modern and comfortable facilities, including double beds and hot showers.
An informal and relaxing atmosphere permeates Brasserie Ulo, a gourmet kitchen and dining room considered one of the island's best. Here, chefs are masters of their fields and use only the very best locally sourced and imported ingredients. As such, the menus at Ulo are created according to what is seasonally available; the hotel is required to adapt their dishes to what is available on a day-to-day basis. This should be no cause for concern, though, for the chefs at Ulo possess no shortage of creativity when coming up with new ways to spin traditional dishes.
Arctic is also home to Greenland's northernmost wine bar, a place where chef Casper Malchow and his team will make sure to please your palate with a selection of high-end dishes and crafty cocktails as well as hand-picked wines. 
Transportation is available for all guests who wish to take guided tours in and around the hotel's natural wonders.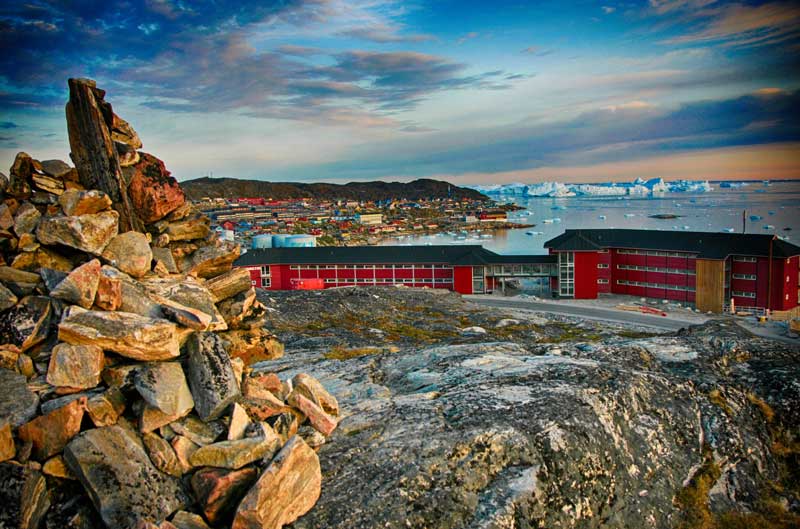 Info
Hotel Arctic
Mittarfimmut Aqq. B-1128
Ilulissat 3952
Groenlandia
Text: Andrés Ordorica ± Photo: Arctic Hotel.