Huayra: the God of the Wind
The Pagani automobiles are collection supercars, appreciated for their design and quality. Horacio Pagani, founder and mastermind behind the brand, set himself the ambitious goal of creating a new roadster version lighter than the coupé. Experts in cars will know how difficult this task is; in general, convertible editions are much heavier than the coupé.
To accomplish his goal, the company spent six years designing the model. Absolutely everything in the roadster version is different from the coupé: no part or panel is shared between them. A new generation material was developed, which is incredibly 52% more rigid, but weighs the same.
This new beauty will be around $2,500,000 USD. All units were sold even before its presentation at the Geneva International Motor Show. Why is it so expensive and in such high demand? Here are some reasons why: there will only be 100 units; the engine is made of more than 10,000 parts and around 4,000 titanium screws were fabricated especially for this Pagani. Additionally, Pirelli created exclusive tires for this model: the P Zero, which carry the initials of Horacio Pagani.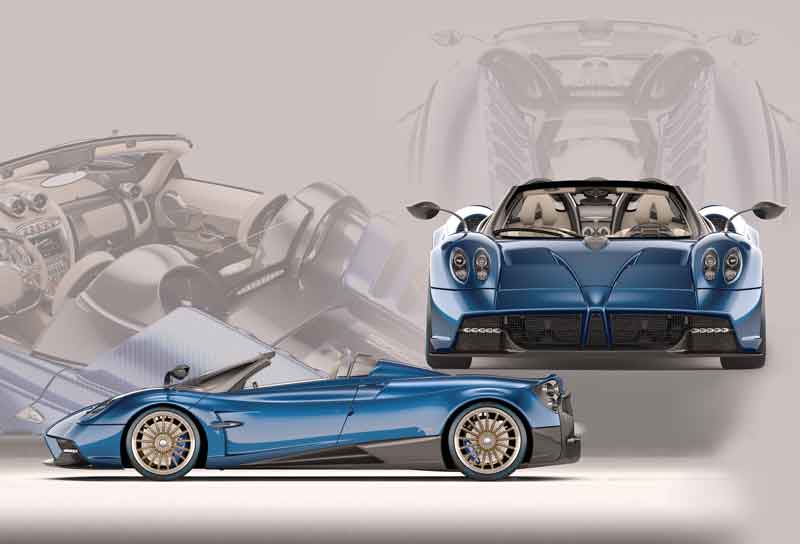 Info
DANIEL MM
M:+52-1-55-4442-9054
This email address is being protected from spambots. You need JavaScript enabled to view it.
Specifications
Pagani Huayra Roadster
Top speed
250 km/h Torque
0-100 km
0 to 97 km/h (60 mph) in 5,7 seconds 266 kW / 362 PS
Transmission
AMT 7 speed
Engine
5,980 cm3, 754 bhp (764 PS/562 kW)
Cylinder capacity
V12 cylinder twin-turbo (AMG)
Text: Daniel Marchand M. ± Photo: DRIVE CARS / JAGUAR / © 2017 Pagani Automobili - rights reserved - credits