The Supremacy of Freedom and Elegance
You will be able to count with the fingers of one hand the units of this model that will come to Mexico. With a worldwide production of 300 pieces, the S650 Cabriolet Maybach is introduced to an ultra-luxurious level to compete with Bentley and Rolls Royce in the cabriolet category.
Opulence is unlimited for Maybach—the headlamps contain Swarovski crystals. The vehicle also includes a luggage set of four travel bags that will be exclusively tailored to match the leathered interior, an elegant cover with diamond-shaped embroideries, and if that wasn't enough, each unit will be delivered with a certificate signed by Daimler AG CEO, Dr. Dieter Zetsche.
Maybach offers three different configurations: Zircon Red with black and white interiors, Cote d'Azur Blue with white and beige interiors, or Diamond White with white and Yacht Blue interiors. Which one would you choose?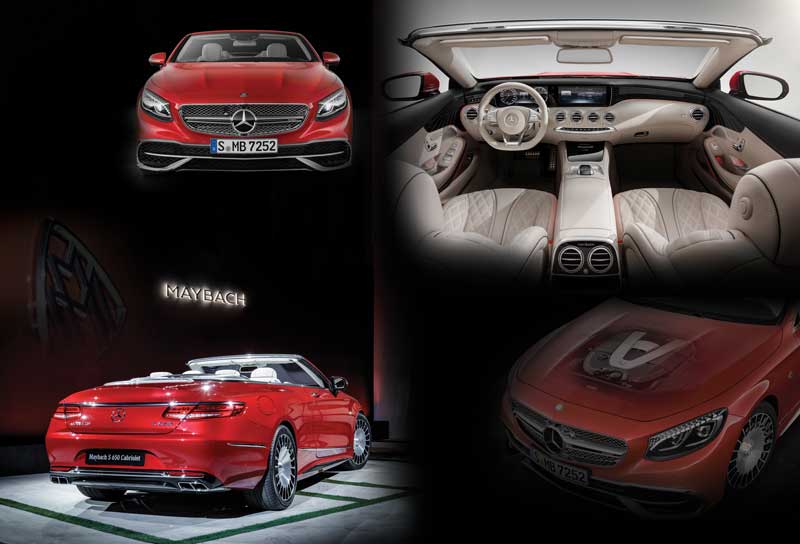 DANIEL MM
M:+52-1-55-4442-9054
This email address is being protected from spambots. You need JavaScript enabled to view it.
Specifications
Mercedes Benz S650 Cabriolet Maybach
Top speed
250 km/hr
0-100 km
4.1 seg/sec
Transmission
Seven-speed automatic
Engine
V12 twin turbo, 621bhp
Displacement
5,980cc
Text: Daniel Marchand M. ± Photo: © 2017 Daimler AG. All rights reserved