An Iconic Model to Celebrate
This year, Porsche accomplished one million units produced of the mythical 911 model. After several events and a global tour across Europe and the Americas, the car will live on at the Porsche Museum in Stuttgart, Germany.
It was designed as close as possible to Ferdinand Porsche's personal vehicle. The exterior color is Irish Green and the interiors are black leather with houndstooth seat inserts. 20 inch Fuchs tires and a mahogany wheel complete this iconic unit's vintage look. As was to be expected by traditionalists, it comes in manual transmission.
This 911 is based on the 911 Carrera S, which is why it has a 414 bhp turbocharged engine and is capable of 191 mph and 4.3sec 0-62mph time. How long did it take for the first models? In 1963, Porsches had 128bhp and reached a maximum speed of 210km/hr and 0-62mph in 8.3secs.
More than half of the 30,000 races won by Porsche came from behind the wheel of a 911, and Porsche claims that more than 70% of the produced 911 are still ready to ride.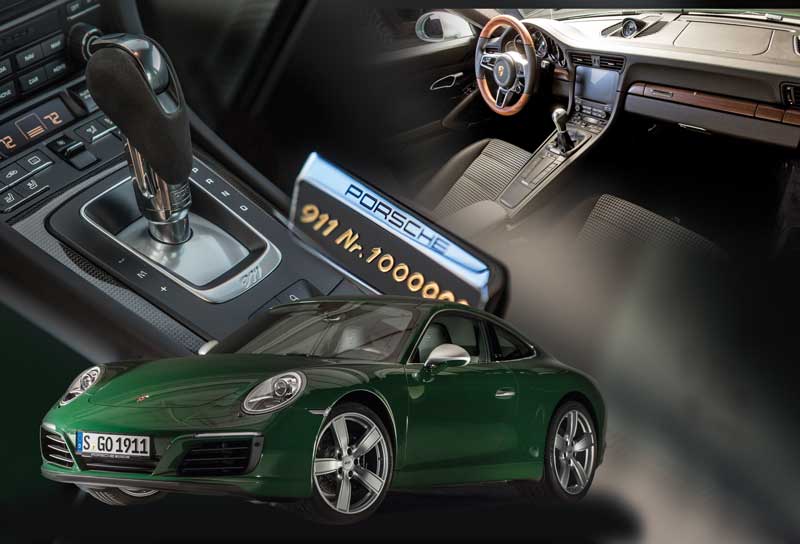 DANIEL MM 
M:+52-1-55-4442-9054
This email address is being protected from spambots. You need JavaScript enabled to view it.
Specifications
Porsche 1000000th 911 
Top speed
307km/hr
0-100 km
4.3seg
Transmission
Six-Speed Manual
Power
414bhp
Text: Daniel Marchand M. ± Photo: AUTO MOBILE MAG / S3 / SE / © 2017 Dr. Ing. h.c. F. Porsche AG