Magic Carpet Ride
Luxury and quality is the first thing that comes to mind when people ask about Rolls Royce. For the eighth generation of the Phantom, those two qualities haven't changed.
Torsten Müller-Ötvös, Rolls-Royce Motor Cars Ltd CEO, has established that each of their customers is an extreme connoisseur, so they must offer the same level of customization. An example of this is that the New Phantom features a free space in the upper part of the dashboard, in case the owner wants to commission a small work of art for their car.
A lot of effort, time, materials and money were invested in the creation of "the quietest car in the world." Construction techniques never before seen were applied to achieve the goal of reducing sound and vibrations. New silent-seal tires were designed with a special foam layer to eliminate noise to the maximum. Even though the 6.75lt twin turbo V12 engine will roar upon ignition, it will be difficult to tell whether the engine is on or not once inside the car.
The "architects of luxury" designed a last generation suspension: Magic Carpet, which performs millions of calculations per/sec, to instantaneously adjust any variation in the terrain, acceleration or movement of the steering wheel. Additionally, the New Phantom's intelligence uses the camera located on the windshield to make active as well as proactive adjustments.O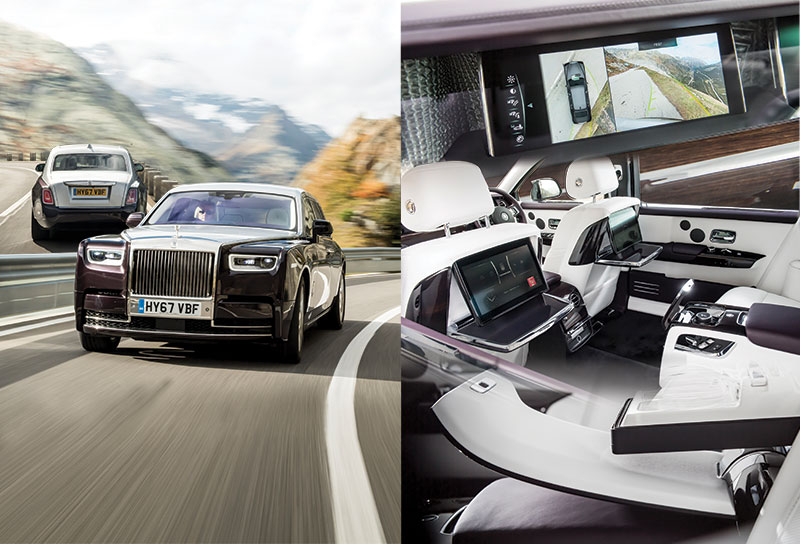 Specifications
Rolls  Royce Phantom 2018
Maximum speed
240 km/h
Acceleration
5.1 s
Transmission
8-Speed ZF
Displacement
6750cc, 563bhp turbo charged
Engine
V12
Fuel Consumption
14.8 l/100km
Texto: Daniel Marchand ± Foto: ROLL ROYCE