The piece will be presented for the first time at the Salon International Haute Horlogerie (SIAR) in Mexico.
The Maya Eclipse watch is rich in symbolism, a captivating tribute to the Mayan people. It embodies the cosmic and fascinating phenomenon of eclipses, offering the spectacular meeting of the moon and the sun 18 times every hour. Its focal point: the axis of the pyramid of Kukulcan seen from the sky, with its nine levels and four staircases.
Les Ateliers Louis Moinet combined the fundamental elements of Mayan culture with watchmaking know-how. The mechanical axis of the movement is crowned by a fragment of jade symbolically placed at the top of the pyramid. It should be remembered that jade was a more precious material than gold at the time.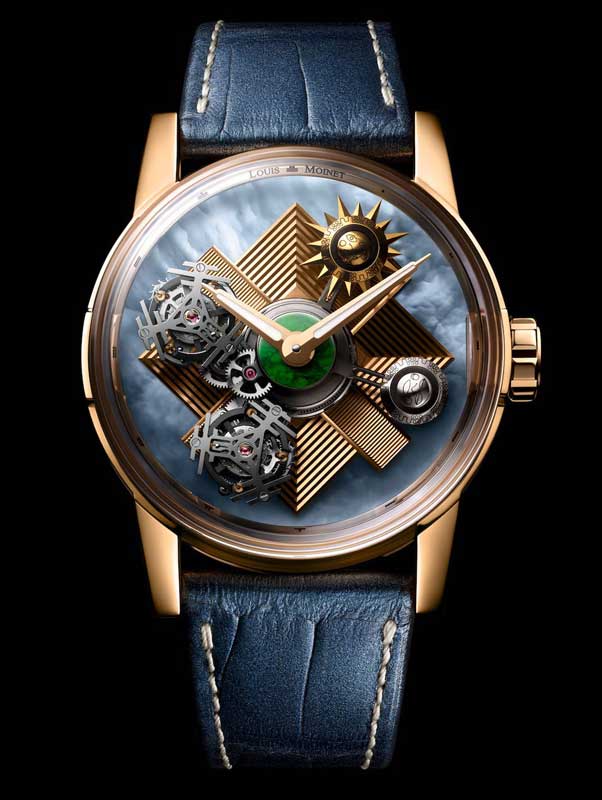 The Mayan culture, thanks to their observations, managed to elaborate different calendars, some of great complexity and great precision that allowed them to keep track of time and thus determine both lunar phases and the position of the sun during eclipses, solstices and equinoxes.
The back of the dial is made of dyed mother-of-pearl, a deep and dreamlike material that recalls that the Kukulcan pyramid -made of 18-carat pink gold and adorned with geometric motifs in guilloché- is built on a cenote. The transparent flange houses the hour indexes expressed in Mayan numerals composed of stripes and dots. They are graphic and facilitate the reading of the time.