Historical figures, patriotic symbols, monuments, values of resistance and struggle.
For Jacob & Co, Mexico has always been a source of inspiration, and this time the Pioneer Aztec Calendar pays tribute to the pre-Hispanic era of the country, the cradle of an entire people and of time itself.
According to the brand, "the art of watchmaking is recharged in the abstraction that is the concept of time"; just like the Aztec calendar.
The calendar, also known as the Sun Stone, was used by the most powerful civilization on the American continent to commemorate the time created and destroyed by the gods and to explain their vision of the cosmos, "a perception created from the astrological knowledge they possessed".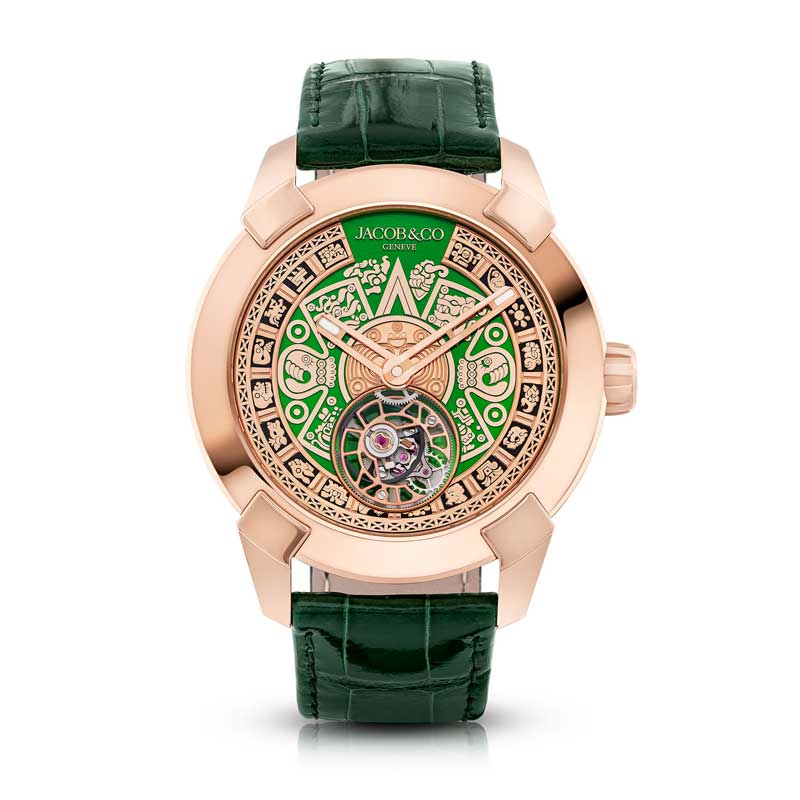 Faced with the fascination of the monolithic disc, Jacob & Co incorporated in the Pioneer Aztec Calendar key elements of the Solar Stone, immortalized on the dial that houses the JCAM22 caliber, with a flying tourbillon at 6 o'clock.
At the center of the dial is Tonatiuh, the god of the sun, whose claws are at 3 and 9 o'clock; around him are the four suns, or worlds before the Aztecs; 20 other symbols of the Mexican calendar are engraved in gold: the alligator, the wind, the snake, a skull, water, the jaguar, the eagle, rain, to name a few.
Two different versions of this model have been launched: one with a white gold case, blue strap and dial; the other with a rose gold case, green strap and dial. It is an edition limited to nine pieces per version.