Hublot and Nespresso have teamed up to create this watch, the first to be partly made from recycled Nespresso capsules and coffee grounds.
The Big Bang Unico Nespresso Origin embodies values such as innovation, excellence and sustainability, thanks to Hublot's challenge to use fewer materials and Nespresso's recycling system, which transforms a coffee capsule into a watch, from the bracelet to the case.
Over the past decade, Nespresso has partnered with various Swiss brands to create new products from used aluminum capsules as part of its Second Life initiatives.
The 42 mm case of this model is made of recycled aluminum, anodized in a bright green color, satin-finished and polished; the crown and pusher undergo the same treatment. The caseback and reservoir are made of environmentally friendly titanium.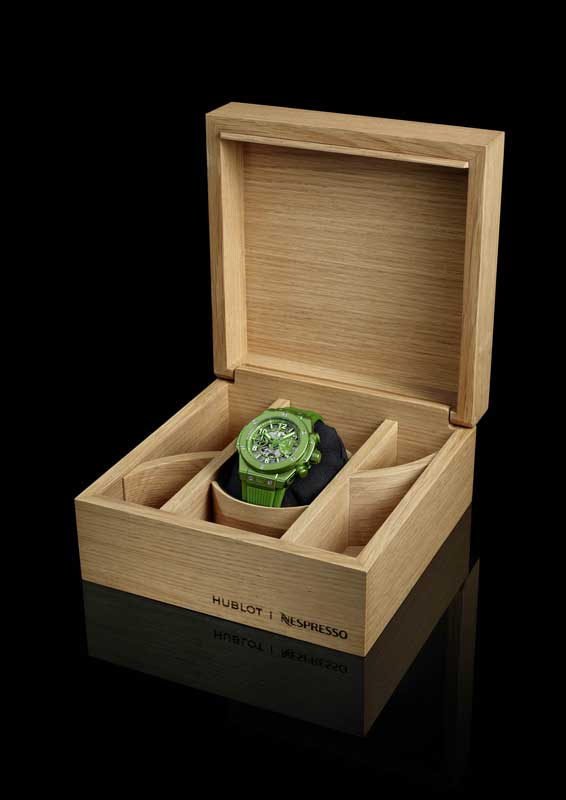 The Big Bang Unico Nespresso Origin uses recycled coffee grounds from Nespresso capsules and applies the magic of Hublot's patented One Click interchangeable bracelet system. For the rubber strap, the watchmaker skillfully balanced the proportions of each element to achieve the perfect color and quality.
For the fabric strap, Hublot collaborated with SingTex, one of Nespresso's partners, which had already used recycled coffee grounds to create a fabric called S.Café®. 
Another novelty is that the watch will be delivered in the Hublot Greenbox, which is made entirely of oak, the majority of which is carved from solid traceable wood. It is designed to be reusable, with 98% of its removable interior made from recycled and eco-friendly components. In recognition of the collaboration, it has a special decoration with the logos of the two brands, fixed with coffee grounds.