The city's best cuts inside a comfortable and friendly environment
This restaurant makes no qualms about it – they're all about great steaks and superb wines. That, coupled with a long tradition of working alongside brilliant artists and designers creates an aesthetic experience that is difficult for diners to forget.
A Hereford Beefstouw offers a menu of beef cuts that are both tender and succulent and, of course, of a premium quality. All are grilled to perfection: sirloin, fillet, rump, ribeye, or musk steak – no matter which you select, it will seemingly sail from the kitchen to your table with your choice of topping and side, including a perfectly seared lobster to enjoy a luscious "Surf & Turf."
There is no shortage of seafood plates at Hereford Beefstouw, this being Greenland, of course. Diners can also delight in tasting colorful plates of pickled or smoked salmon; deep-fried scampi, with a piquant green pepper dressing; a prawn cocktail; or scallops marinated in lime.
Desserts are of the traditional type, and include such creations as warm pancakes with orange sauce and warm almond cake.
Wines at Hereford Beefstouw are imported from around the world, including France, Italy, Spain, Germany, the United States, and Australia. The stars here, though, are the wines from Burgundy and Piemonte, which are also the absolute cornerstone of the restaurant's concept. At Beefstouw, it is paramount that the quality of the wine matches the character of the cut.
Wines are stored beneath a 16 meter tall cobber pyramid at optimal conditions until it is matured and ready to drink.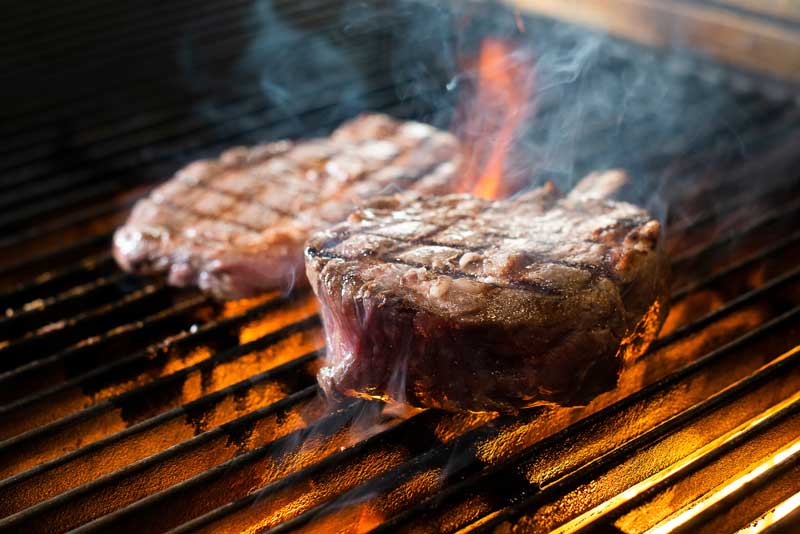 Info
A Hereford Beefstouw
Hotel Hans Egede
Aqqusinersuaq 1
3900 Nuuk
Groenlandia
Text: Andrés Ordorica ± Photo: A Hereford Beefstouw