Phillipe Starck was the designer selected by Dior for the transformation of the classic seat, exhibited during an installation at Palazzo Citterio during Milan Design Week 2022.
The Louis XVI Medallion chair dates back to the late 18th century and has been associated with the Maison since 1947, the year Victor Grandpierre selected it for Monsieur Dior's fashion shows at 30 Avenue Montaigne.
In 2021, Dior commissioned 17 international designers and artists to reinterpret the chair, however, this year the call went only to Starck.
The designer mentioned being attracted by "its ergonomics, ecology, symbolism and culture". He defined it as "a true exercise in style, extremely complex and precise".
Philippe Starck opted for a streamlined and elegant design, with a hint of glamour and extravagance. Instead of the traditional wooden frame and fabric upholstery, the Starck Medallion chairs – all titled Miss Dior – are modeled in aluminum, with a natural finish or with a pale pink copper, black chrome or gold.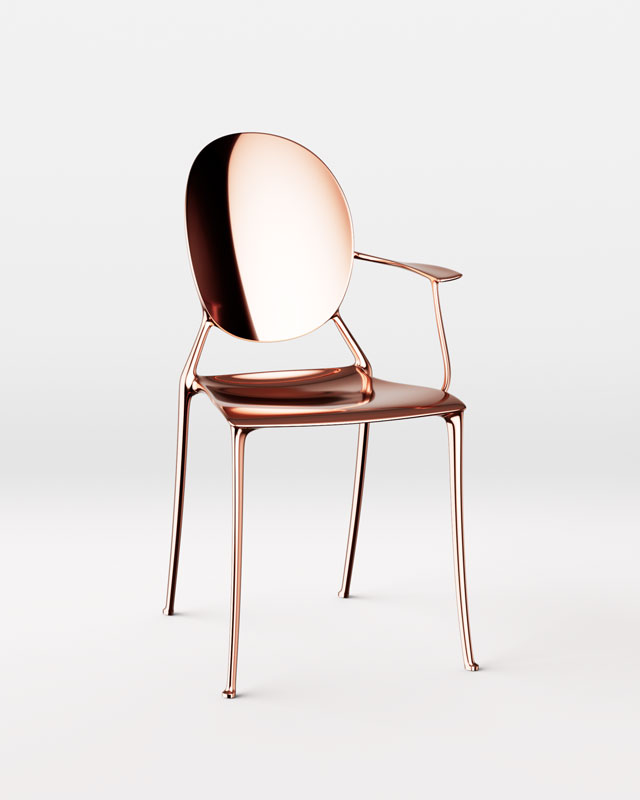 Some chairs are smooth and shiny, others have a satin finish. Still others have armrests and others have none at all.
It is worth mentioning that to achieve such finishes, Starck and Dior turned to an injection molding specialist in Lomardy, who developed a unique process. The result: aluminum of the highest purity.
Until next Sunday, June 12, the 24 pieces that make up Miss Dior by Philippe Starck are available on the lower level of the Palazzo Citterio.