El 'Space Pirate' encuentra el oro
Horological Machine No. 6 de titanio evoluciona a Space Pirate, edición galardonada con el Best of the Best en Los premios Red Dot de Essen, Alemania una de las más famosas competencias de diseño a nivel internacional. Esta edición se limita a 18 unidades de oro rojo 5N+ de 18K y titanio.
Se trata de una aleación única que sublima aún más la naturaleza orgánica de la Machine. El oro rojo 5N+ es una combinación no solo de oro y cobre, sino también de una pequeña cantidad de paladio. La HM6 RT incluye un tourbillón volante con escudo retráctil, indicadores horarios esféricos, turbinas que minimizan el desgaste y un movimiento de cuerda automática de 475 componentes.
La cúpula transparente en la parte superior de HM6 RT proyecta un  motor sofisticado en su interior; el portal de la pantalla de cristal de zafiro en la parte posterior revela más de los 475 componentes finamente acabados que generan el movimiento de alta complejidad.La idea fundamental de esta magnífica pieza reside en un movimiento artístico del biomorfismo, cuyos elementos de diseño están basados en las formas de los organismos vivos..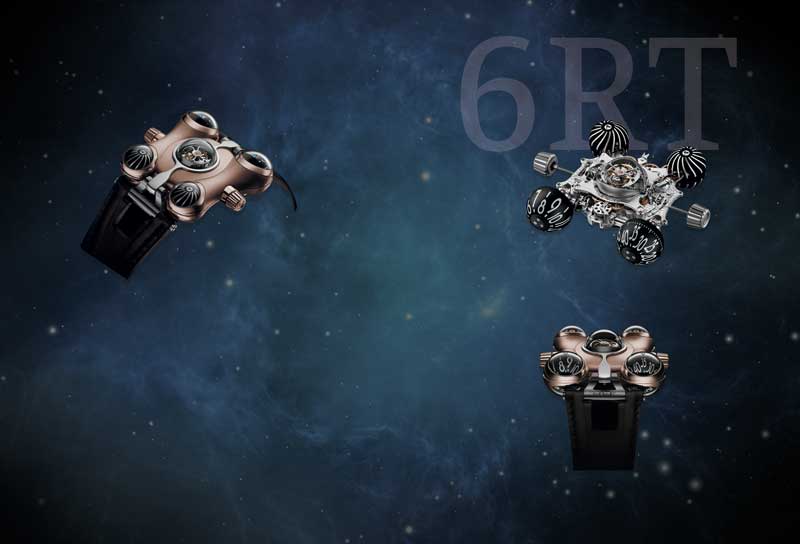 Texto: MB&F ± Foto: MB&F