Where a newfound appreciation for nature is found outside your door
On a pristine 178-acre stretch of land right on the edge of Rwanda's Volcanoes National Park sits the Singita Kwitonda Lodge, part of an ambitious undertaking to rehabilitate, reforest, and maintain the biological integrity of the land. These efforts will help ensure the survival and increase the range and numbers of the gorilla population. Your stay will also uplift and empower the surrounding communities that are dedicating their lives to keep this unique patch of land as nature intended.
Sustainability is the fundamental focus of Singita Kwitonda Lodge. Its design was planned with utmost respect, mindful of this remarkable geological location. It offers an intimate engagement with the landscape and a sense of solitude within nature.
The lodge features eight gorgeous suites furnished with cozy couches, indoor and outdoor fireplaces and heated plunge pools, as well as magnificent views towards the Sabyinyo, Gahinga, and Muhabura volcanoes. More than 500 local artisans and constructors were commissioned to build Singita's beautifully crafted walls, woven ceilings and hand-fired terracotta brickwork, creating strong and captivating, yet soothing and harmonious lodgings.
Families are welcomed at Singita Kwitonda Lodge, and are encouraged to visit the sprawling Akarabo Nursery, a place that holds more than 60,000 plants, many of these purchased from neighboring communities.
Visitors are also welcomed to stroll through the on-site garden that offers farm-to-table fresh produce. The garden plays a key part in contributing to the sustainable operations of the lodge.
The lodge is also home to a spa the offers the opportunity to retreat, relax, reflect and breathe in a sense of peace and tranquility. Yoga, meditation, massages, soft lighting and warms baths are all offered in this enclosure. It's the perfect spot to dwell in after a day of adventures and outdoor activities.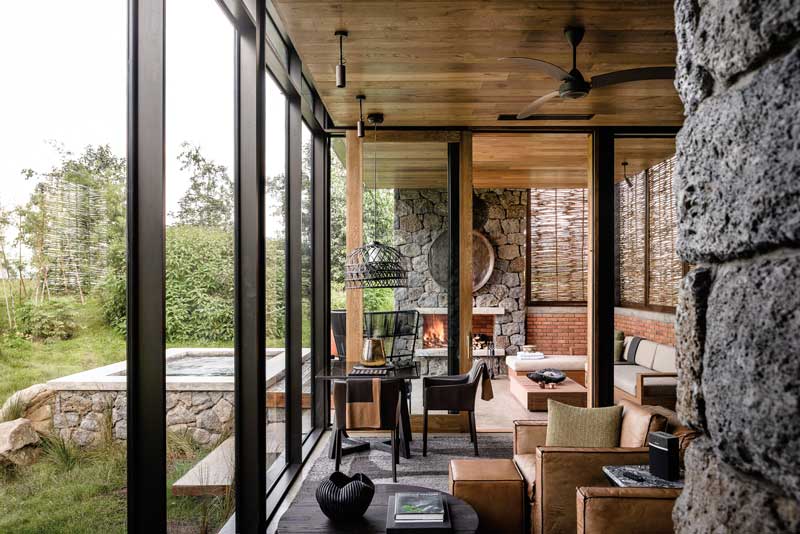 Info
Parque Nacional de los Volcanes
Ruanda
Text: Andrés Ordorica ± Poto: Copyright © 2019 Wilderness Safaris. All rights / YELLOW ZEBRA / MAGASHI CAMP RWANDA / EXTRAORDINARY JOURNEYS / WT / ALL RIGHTS RESERVED © 2019 SINGITA